ANDREA
SHANDA
MARY J
CONGRATULATIONS!!!!!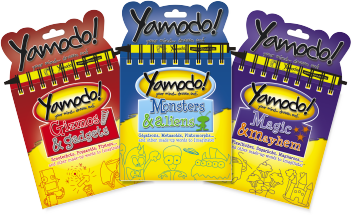 I received this game in the mail from Yamodo as I was driving out to take my son to the orthodontist. Not the most fun place in the world to hang out on a cold winter afternoon! I stuck it in my pocketbook to look over while waiting. Boy am I glad that I did! We spent the whole time drawing, writing and laughing :) So much so that the doctor leaned over to take a look at what all the noise was about.
As the picture above shows this a small spiral bound book. We received the Gizmo's and Gadgets book. Inside are pages of very strange words at the top of the page like:
noobatron

ploober

grizlocker
Using this nonsense word at the top of the page, you create a drawing around the pre-drawn lines on the page and add a definition on the bottom. The fun part comes is that you pass the book around until someone thinks the drawing is completed. Quite interesting when you think noobatron is a noisy robot who whacks at flies but someone else wants it to be a llama with antenna! When the book leaves your hands, you never know what will on the page when it returns!
Here is our first attempt.....the word is gobblerbot! Here's our explanation and picture of a gobblerbot:
A mouth with big teeth that eats small fish with his tongue while singing!
You will notice in the upper right corner a small box that shows what was on the page for us to start our drawing with.
The only change I would recommend to the company is instead of having "Yamodo! your mind...drawn out" on the back of each page put another crazy word. That way we could have twice as much fun in this little book :)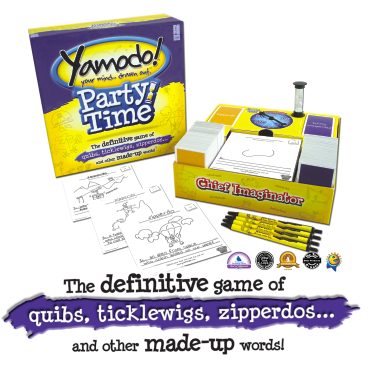 I am a competitor, so I like a game where I not only have a lot of fun and laughs, but one I CAN WIN!!! The makers of Yamodo have already thought of that. They have a game called Yamodo Party Time.
Yamodo is being very generous by sponsoring a giveaway of EACH of their theme books. There are going to be THREE winners.
How to enter:
MANDATORY: Must be a follower of For One Another AND visit Yamodo.com and comment below which theme book you want to win if you are chosen.
EXTRA ENTRIES for those who REALLY want to win!!!!
1. Like Yamodo on Facebook
2. Comment on Yamodo Facebook page that For One Another sent you
3. Follow Yamodo via Twitter
4. Follow For One Another via networked blogs (on sidebar at right)
5. Follow For One Another via Twitter
6. Enter another For One Another giveaway and tell me which one
Winner will be chosen via random.org on December 29, 2010 and notified by email. Winner will have 24 hours to reply with contact information. If no reply, then an alternate winner will be chosen.
PLEASE CHECK YOUR SPAM FOLDER SO YOU DON'T MISS OUT IF YOU ARE THE WINNER
*Thanks goes to Yamodo for sponsoring this giveaway. I received a complimentary copy of Gizmo's and Gadgets for review purposes only. I was not required to post a positive review,but I did because it is a fun game.