Can you say "HOMESCHOOLOPY" ten times fast? Hahaha.....I laughed when I first read/said the title of this game I came across. When I saw it, I knew I had to review it! What a hoot!
There have been hundreds of 'themes' for this popular 'opoly game. From Sesame Street, to Disney, to World Editions. Whatever your passion, I bet you can find one. So why not a homeschool version?
As a homeschooler you will recognize many of the squares. Artes Latinae Latin Course, Write Shop, Konos, Sonlight, World Magazine and (my favorite) TEACH magazine (now called Eternal Encouragement) just to name a few. If you land on a name you don't recognize, just flip the card over and read all about it...even a web address so you can find out more. Who knows you may be introduced to a new company with great products you've never known about.
Land on the "Go to Court" square and you'd better be a member of HSLDA ;)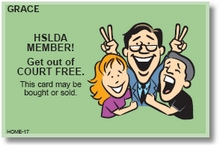 Or my favorite GRACE card: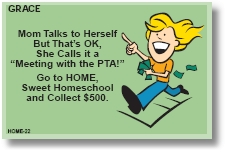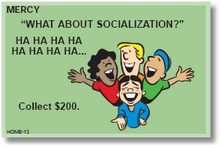 Here's an overview from the family who came up with the idea:
HOMESCHOOLOPOLY® is a board game which adds a new twist on an old familiar favorite. At its core this game is based off of the similarly named classic game. To play you buy properties and try to amass your treasure - a word that originates from the Greek word thesaurus meaning "a treasure of words". Houses and Hotels have been replaced with Stacks of Books and Keys to knowledge; Chance and Community Chest are now Grace and Mercy. Designed by veteran homeschoolers, this game is filled with inside jokes and homeschool lingo yet the familiarity is just enough so that one can jump right in and start playing.
We did not own an 'opoly game until now. I've never been much of a fan, to be honest. BUT I did so enjoy this one. It was fun to want to land on the names of companies that I recognized and then purchase them. :) I played with my 17 year old son and it only took him one hour to bankrupt me :( --- Which reminded me why I never liked this type of game.
Supplies are limited on this one-of-a-kind game. The company is selling out their stock at 50% off. For $17.49, with free shipping, you can add this to your game shelf. It may never be available again.
Click here to purchase your own copy.