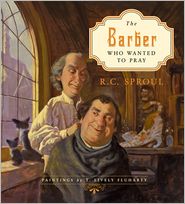 This is my first review since my father's death a few weeks ago. How appropriate that this book is about prayer. My dad was faithful in daily prayer. During this past summer, while he was living with us, every morning I heard quiet murmurs coming from his room as he and mom prayed together.
Sometimes I would join them. I was brought to tears as I listened to his passion as he
prayed for his entire family
by name
everyday. As I sit typing this review, I miss the sound of his voice......
This book tells the story of why Martin Luther wrote the book "A Simple Way to Pray". (click here to read online for free) When a humble barber asked Martin Luther to teach him to pray, Mr. Luther went home and wrote out a small booklet on the importance of using the Lord's Prayer, the Ten Commandments and the Apostles' Creed as guides in our prayer life.
This book by Crossway, The Barber Who Wanted To Pray, is a MUST in every Christian library. Although this is a children's book, it is FOR all believers. If we would take what is recommended in this book into our prayer lives....WOW, we would change dramatically.
Now I'm sure you want a copy of your own! OR to give as gifts!
Give a gift that will change a child's (and parents) life!
*I received a complimentary copy of this book from Crossway for my honest review