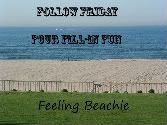 1. I used to enjoy ______ but now I don't really anymore except for when I____
2. My first job was ______
3. I am a bit obsessed with ________ at the moment
4. If I don't have my ___________ at night, I don't sleep well
1. I used to enjoy
long hot baths
but now I don't really anymore except for when
I'm not having a hot flash
2. My first job was
doing activities with the residents in a nursing home. This was through a work to school program during my junior and senior years of high school. I loved it!
3. I am a bit obsessed with
getting a quilt finished so I can start another one
at the moment
4. If I don't have my
body soaking in sweat
at night,
then I DO sleep well, which is NEVER so I rarely sleep well.
It seems my life right now is filled with dealing with hormonal issues......will it ever end?
Come join the hop: