Everyone has a favorite shoe.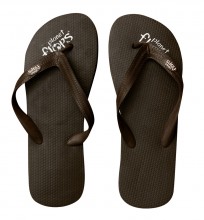 Oh yea!!! And why is this my favorite shoe? Cuz when it's flip-flop season it's SUMMER!
The warmth.
The sunshine.
I used to think all flip-flops were the same until I had the chance to wear a pair from
Not only are they made from recyclable natural rubber, they are cushiony and comfy. There isn't any of the rubbing between your toes that causes blisters or where the strap hits your foot and irritates. Just comfort.
Stylish too...as they come in a variety of colors!