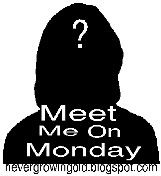 Questions:
1. Do you like your ice cream in a dish, waffle cone, pretzel cone, sugar cone or cake cone?
2. Do you read the newspaper daily?
3. Marinara or meat sauce?
4. Last time you cried?
5. What word/phrase do you find really annoying?
1. Ice cream in my mouth is the best way I like it ;)
Ok, from a dish.
2. No newspaper reading...it's so biased and usually only BAD news!
3. I am a "wanna-be" vegetarian....so marinara for me
4. Saturday afternoon....click here to read why
5. "Time to get up"! Yup, I HATE that one!